3 Ravens Brewery, established in 2003 and located in Thornbury, Australia has embarked on a clean energy transition, to achieve this goal, they have installed a series of technologies, including a heat pump for cooling and a solar photovoltaic system. 
This investment will enable them to increment their production by 400% without increasing energy consumption or emissions, while optimizing the facility's energy management to minimize damage to the environment and maximize benefits to the community. 
The beginning 
3 Ravens has always been an exclusively electric brewery, but its old processes were not very efficient. The site had several obsolete R22 reverse cycle electric split systems for cooling the rooms and was looking for a better solution than upgrading the business-as-usual (BAU) equipment to cope with the expected higher volumes. Continuing with the existing equipment would have increased the brewery's energy costs, as well as requiring an expensive upgrade of the site's electrical capacity. In addition, maintaining BAU equipment would have created a significant problem with HVAC equipment, as the phase-out of harmful R22 refrigerants is continually progressing.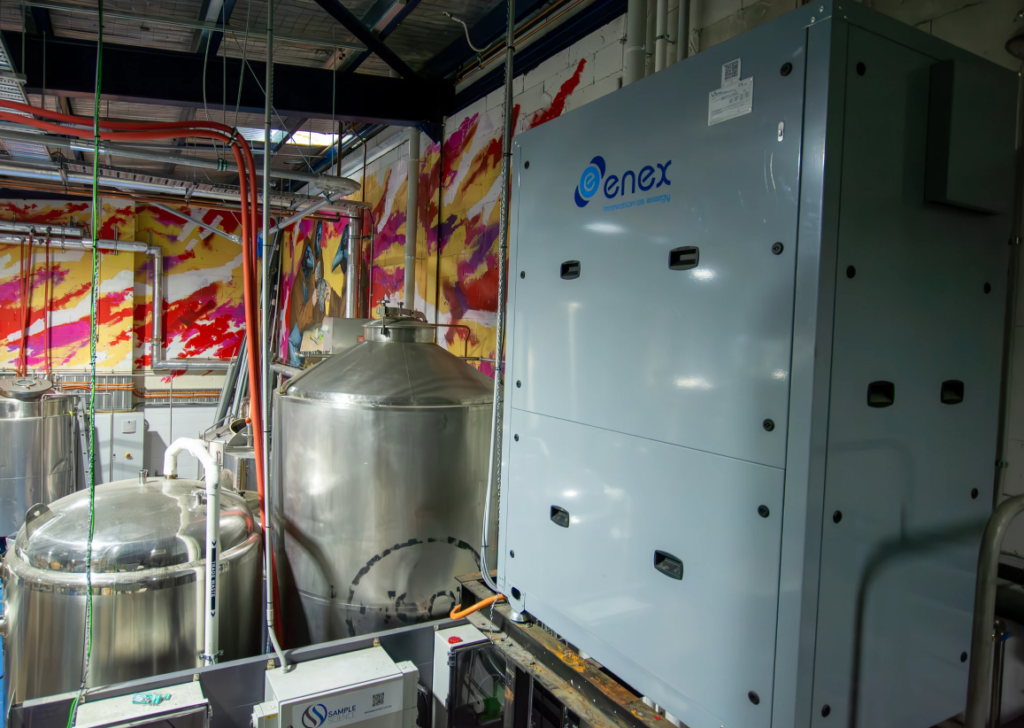 The problem 
Breweries typically have chillers with glycol tanks for storage, but the heat produced by these chillers is a trouble rather than a useful resource. Heating processes have rarely been integrated with cooling in brewing until now. Heat pump systems usually work best in a constant state, while brewing is a discontinuous process. However, by focusing on system flexibility, redundancy, increased storage, and better utilization of heat exchangers, 3 Ravens aims to automate brewing and maximize energy efficiency.
By not replacing the actual equipment of 35 kW of R22 HVAC, 3 Ravens will potentially contribute to add a significant amount of high GWP refrigerants in the environment as shown in the table 45below:  
| | | | | | |
| --- | --- | --- | --- | --- | --- |
| | Refrigerant | kg R-gas  | IPCC GWP  | Persistence (years)  | Split |
| Split1 | R22 | 4 | 1760 | 12 | 7,040 |
| Split 2 | R22 | 3,9 | 1760 | 12 | 7,040 |
| Chiller 1 | R438a | 10 | 2265 | 19,9 | 22,650 |
| Chiller 2 | R404a | 10 | 3922 | 40 | 38,220 |
| | | | | Total GWP | 76,090 |
The request 
3 Ravens and Regenerate Engineering looked beyond just technological fixes to consider how the approach to the brewing process could also be adjusted to get the most out of the new equipment and maximize energy productivity for the business while decreasing their GWP.
A proposal has been made to replace separate heating and cooling processes with a single-cycle CO2 chiller with advanced heat extraction, also known as chiller heat pump. This would efficiently combine both processes and extract the necessary heat from the cooling functions. By utilizing waste heat from the cooling supply, the need for new heat would be avoided.
The study 
To determine the feasibility of this proposal, an extensive study was completed with the support of ARENA and A2EP. The study included a detailed analysis of the mass/energy balance of the process and outlined how the proposed equipment could be integrated into the existing plant, along with the necessary upgrades that would be required.
By incorporating this technology, the brewery aims to improve the efficiency of their brewing processes and reduce energy waste caused by excess heat.
The Solution 
The need to have a chiller heat pump operating in: transcritical (TC) and subcritical (SC) modes. makes storage crucial to prevent the unit from shutting down when more heating is required.
In order to make the energy upgrade possible, 3 Ravens had to install new technologies, such as a 45 kW variable duty Enex CO2 chiller with advanced heat extraction, consisting of a heat pump that can switch between SC and TC modes, an external adiabatic Enex gas cooler to complete the CO2 cycle and an additional heat exchanger to catch and use the medium-temperature heat flow for HVAC purposes if required, but also had to optimize and renew its distribution and air handling systems.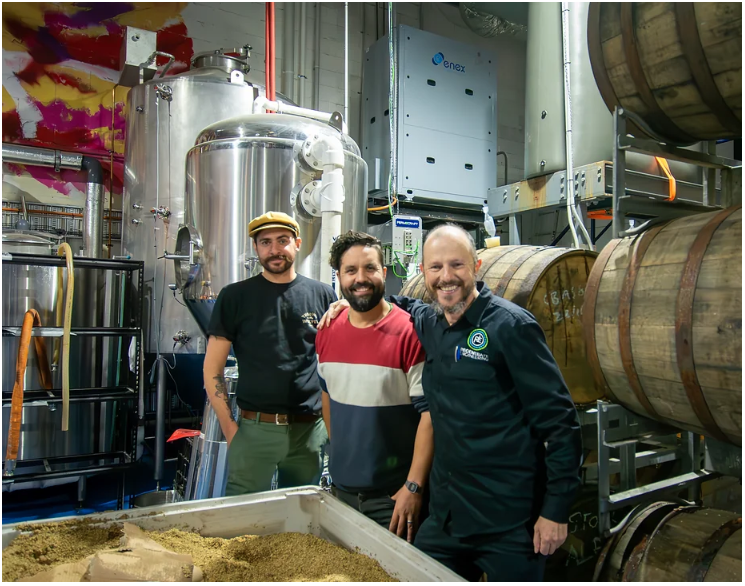 The Results 
As of June 2023, the new system has been commissioned. It will be closely monitored and as 3 Ravens adjusts to the new system, tweaks and adjustments will be made. It is anticipated that the impact of the system will be a huge improvement in energy productivity for 3 Ravens, with estimates included below.
2020
(baseline) 
2023-2024
(baseline) 
2025-2026
(baseline) 
Brewing and cold storage energy consumption (kWh) 
170.000
165.000
230.000
HVAC energy consumption (kWh) 
22.000
8.000
8.000
Brewery production (litres) 
250.000
500.000
1.000.000
Solar PV generation (kWh) 
88.000
88.000
Solar PV self-consumption (%) 
0%
75%
85%
Energy consumption from the grid (in kWh) 
200.000
110.000
190.000
Emissions (tonnes of CO2) at 2023 EF 
184
101
175
Emissions per 250ml beer (grams CO2-e) 
184
51
44
% Energy saved per beer 
73%
76%
The energy upgrade influenced various non-energy benefits, including more comfort and improved ventilation within the facility. It also resulted in a reduced liability for the release of climate-damaging refrigerants, enhanced brewing automation, increased brewing throughput, and positively impacted marketing and brand strategy.
"It feels really good to be doing our bit to help fight the climate crisis and to be leading the way in renewable energy innovation in our industry. Sustainability has always been high on our business agenda, and we're thrilled to finally see our beer powered brewery come to life," said Nathan Liascos, General Manager of 3 Ravens. 
Luis Crespo, President of the Commercial Refrigeration & HVAC businesses units of Enex technologies added: "Our mission is to support the global energy transition while making our customers successful.  The 3 Ravens Brewery is a very good example of how we can make the difference when partnering with our clients and distributors to identify the business needs and offer tailored made sustainable and innovative solutions." 
Let us know if you want to know more about Enex technology solutions to significantly decrease the emissions of your business.